Wharton Neuroscience Summit
Brain Capital:
The Future of Human Creativity, Well-Being, and Performance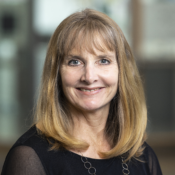 Mary "Missy" Cummings, PhD, Director, Mason Autonomy & Robotics Center (MARC), George Mason University
Professor Mary (Missy) Cummings received her B.S. in Mathematics from the US Naval Academy in 1988, her M.S. in Space Systems Engineering from the Naval Postgraduate School in 1994, and her Ph.D. in Systems Engineering from the University of Virginia in 2004. A naval officer and military pilot from 1988-1999, she was one of the U.S. Navy's first female fighter pilots. She is a Professor in the George Mason University College of Engineering and Computing and is the director of the Mason Autonomy and Robotics Center (MARC). She is an American Institute of Aeronautics and Astronautics (AIAA) Fellow, and recently served as the senior safety advisor to the National Highway Traffic Safety Administration. Her research interests include the application of artificial intelligence in safety-critical systems, assured autonomy, human-systems engineering, and the ethical and social impact of technology.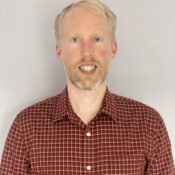 Harris A. Eyre, MD, PhD, Lead, Brain Capital Alliance; Fellow, Baker Institute for Public Policy, Rice University
Harris Eyre MD PhD is a brain capital builder who believes that investing in building brain capital is fundamental to meeting modern societal challenges and driving innovation. He leads the development of the brain capital field and seeks to place it at the center of economics, policy, finance, and technology. In his career, he has operated as a physician, scientist, entrepreneur, executive services provider, author, new economic and finance thinker, and neuroscience diplomat. He is a fellow in brain health at Rice University's Baker Institute for Public Policy, senior fellow for brain capital with the Meadows Mental Health Policy Institute, lead of the Brain Capital Alliance, co-lead of the OECD Neuroscience-inspired Policy Initiative and an instructor with the Global Brain Health Institute. He has written hundreds of scientific and policy papers with thousands of coauthors and was lead editor for Convergence Mental Health, Oxford University Press. He is an alumnus of Forbes 30 Under 30 and the Fulbright Scholar program. He is an EB1A Alien of Extraordinary Ability Green Card holder which is an honor typically reserved for Nobel and Pulitzer prize winners. Harris is from the Great Barrier Reef region of Australia and is now based in the USA.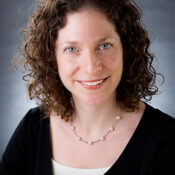 Kimberly Noble, MD, PhD (Penn G'05, Penn Med'07); Professor, Neuroscience & Education at Teachers College, Columbia University
Kimberly Noble, MD, PhD, is a Professor of Neuroscience and Education at Teachers College, Columbia University. As a neuroscientist and board-certified pediatrician, she directs the Neurocognition, Early Experience and Development (NEED) lab, where she and her team study how socioeconomic inequality relates to children's cognitive, emotional, and brain development.  Her work examines socioeconomic disparities in cognitive development, as well as brain structure and function, across infancy, childhood and adolescence. She is particularly interested in understanding how early in infancy or toddlerhood such disparities develop; the modifiable environmental differences that account for these disparities; and the ways we might harness this research to inform the design of interventions. She has funding from NIH and numerous foundations, and she is one of the principal investigators of Baby's First Years, the first clinical trial of poverty reduction to assess the causal impact of income on children's cognitive, emotional and brain development in the first three years of life. Dr. Noble received her undergraduate, graduate and medical degrees at the University of Pennsylvania, and completed her residency in pediatrics at Columbia University Medical Center. She was awarded the 2017 Association for Psychological Science Janet Taylor Spence Award for Transformative Early Career Contributions, and the 2021 American Psychological Association Award for Distinguished Contributions to Psychology in the Public Interest. Dr. Noble is an elected Fellow of the Association for Psychological Science. Her TED talk has more than 2 million views to date, and her work has received worldwide attention in the popular press.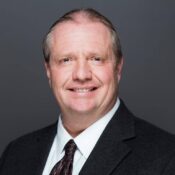 Nicholas Port, PhD, Professor, Indiana University School of Optometry, Psychological & Brain Sciences
Dr. Port is a full professor at the IU School of Optometry and a life-long Neuroscientist who has been studying concussions & TBI since 2007.  He has been continuously funded since 2008 with grants from the NIH, DOD, NCAA, NFL foundation, and State of Indiana.  He was a professional high flying trapeze catcher with the Flying Cranes in the Moscow Circus in 1987-1988 and with Cirque du Soleil in the La Cirque Réinventé and Nouvelle Expérience tours in 1989-1990.  He currently is the leader of The Bloomington High Flyers and catches aerialist 250 days a year.  Finally, Nick spends the winter as professional skier where he is a ski patroller, ski patrol instructor, and back country ski guide.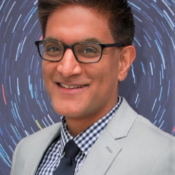 Rajiv Ahuja, Associate Director, Center for the Future of Aging, Milken Institute
Rajiv Ahuja works in the Milken Institute's Center for the Future of Aging, where he focuses on aging policies and programs that promote healthy longevity. He manages the Institute's Alliance to Improve Dementia Care and cultivates interdisciplinary partnerships to improve the lives of older adults affected by dementia and their families. Rajiv spearheads efforts to incentivize policy, business, and technology-based approaches that promote brain health, combat stigma, reduce costs, and bridge health and economic disparities. Rajiv also works to strengthen the Institute's global aging networks to promote prevention and wellness for longer, healthier lives. Before joining the Institute, Rajiv worked as a healthcare consultant, supporting health plan and provider clients. Rajiv holds a master's in Healthcare Policy and Management from Carnegie Mellon University's Heinz School of Public Policy and a JD from American University in Washington, DC.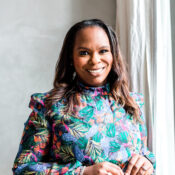 Jayme Banks. Psy.D, MBA, Deputy Chief of Prevention, Intervention & Trauma, The School District of Philadelphia
Dr. Jayme Banks is currently the Deputy Chief of Prevention, Intervention, and Trauma at The School District of Philadelphia.  In this position, Dr. Banks oversees The Office of Prevention and Intervention, where she has been working to further the districts implementation of trauma-informed practices and continuum of mental/behavioral health supports. Dr. Banks began her clinical training at The Chicago School of Professional Psychology where she obtained a master's degree in Clinical Counseling.  From there, she went on to obtain a Doctorate Degree in Clinical Psychology with a specialization in School Psychology and a Master's in Business and Administration from Widener University.
Dr. Banks has an extensive background and expertise in children's mental health and program development.  She is passionate about implementation and dissemination of necessary programming to ensure resiliency in children and youth. The programs that she has led focused on ensuring that children could optimize their opportunities to engage in the classroom, develop relationships with teachers and peers, and take those meaningful experiences into their homes to ensure that they were working towards bright and hopeful futures.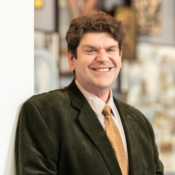 George Demiris, PhD, FACMI, Mary Alice Bennett University Professor, Associate Dean for Research & Innovation, School of Nursing, PIK (Penn Integrates Knowledge) University Professor, School of Nursing & Perelman School of Medicine, University of Pennsylvania
George Demiris is the Mary Alice Bennett University Professor and a PIK (Penn Integrates Knowledge) Professor at the University of Pennsylvania and holds joint faculty appointments in the Department of Biobehavioral Health Sciences of the School of Nursing and the Informatics Division of the Department of Biostatistics, Epidemiology and Informatics, Perelman School of Medicine. He explores innovative ways to utilize technology and support older adults and their families in various settings, including home and hospice care. He is a Member of the National Academy of Medicine, a Fellow of the American College of Medical Informatics, the Gerontological Society of America and the International Academy of Health Sciences Informatics. He directs the Penn Artificial Intelligence and Technology Collaboratory for Healthy Aging and is co-director of the Penn Community Collaboratory for Co-Creation.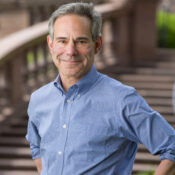 David Carl Edelman, Executive Advisor, Independent Board Member, HBS Lecturer
David Edelman's leadership in driving strategic digital and marketing change over the past 30 years – as a top CMO and as a Strategic Consultant — has made him a sought-after advisor on AI, digitization, go-to-market strategy, marketing organization, and agile operations. From his earlier work for clients such as JPMorganChase, SAP, American Express, Verizon, IBM, and McDonalds, he developed and popularized foundational concepts such as "The Customer Decision Journey," and "Segment-of-One Marketing."  More recently, he guided Aetna (now part of CVS Health) through becoming a digitally-oriented, customer-centric enterprise. David has been repeatedly recognized by Forbes as one of the "Most Influential CMOs in the World," and by AdWeek as one of the "Top 20 Marketing and Technology Executives."  His writing and work has attracted over 1.1 million followers to his LinkedIn blog, and he has delivered dozens of keynote presentations at conferences around the world.
Currently, David is a Senior Lecturer in Marketing at HBS. He also advises CEO's and CXO's on Marketing Strategy, and in Healthcare, focusing on where AI and personalization unlock transformational opportunities. Through his relationship with Halifax Partners, he is a Board member of Stratatech, a vocational school chain, building on his strong interest in education.  He is also on the Advisory Board of Glasswing Ventures, a major Boston VC firm, and serves as a Senior Advisor to The Boston Consulting Group.
Previously, as Chief Marketing Officer of Aetna, now part of healthcare giant CVS Health, David ran CVS Health's "Digital First" enterprise modernization program. He drove a broad transformation at Aetna, implementing real-time analytics and agile operations. Through fast-cycle, cross-functional "pods" that constantly test and learn, he helped accelerate the growth of Aetna's Medicare business, adding billions in revenues.  Using advanced marketing to improve health behaviors, his team motivated actions by members that saved millions in medical cost.
A proven change agent, David built new practice areas as a partner with The Boston Consulting Group, Digitas (now part of Publicis Groupe), and then for McKinsey & Company, all based on guiding clients through global digital transformation initiatives.
In 2022 and 2023, he published three articles for the Harvard Business Review, Customer Experience in the Age of AI,  Generative AI Will Change Your Business — Here's How to Adapt,  and What Smart Companies Know About Integrating AI, following his earlier cover story on Branding In the Digital Age  (2010), and a follow-up article Competing On Customer Journeys  (2015).  These have become core reading at business schools and in many corporate marketing departments. Through his affiliation with the "Growth Master" council of the Association of National Advertisers, he co-leads an ongoing taskforce on "Responsible Personalization," helping CMO's navigate the many challenges of using AI and customer data to deliver breakthrough experiences.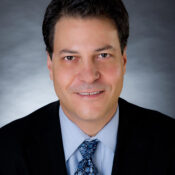 Mitchell S. V. Elkind, MD, MS, FAAN, FAHA, Chief Clinical Science Officer, American Heart Association; Professor of Neurology & Epidemiology, Columbia University
Dr. Elkind is a tenured Professor of Neurology and Epidemiology at Columbia University. He was previously Chief of the Division of Neurology Clinical Outcomes Research and Population Sciences (Neuro CORPS) in the Neurology Department at Columbia, and he served as President of the American Heart Association (AHA) 2020-2021.
Dr. Elkind received his medical degree from Harvard Medical School, and he trained in Internal Medicine at Brigham and Women's Hospital and in Neurology at Massachusetts General Hospital, both in Boston, MA. He completed a fellowship in Vascular Neurology and Neuroepidemiology at Columbia University Medical Center. Dr. Elkind holds a Master's degree in Epidemiology from Columbia's Mailman School of Public Health. His research focuses on stroke prevention, inflammatory and infectious biomarkers in stroke risk prediction, atrial cardiopathy, immune therapy for acute stroke, and vascular causes of cognitive aging. Dr. Elkind is the Principal Investigator of several independent investigator awards from NIH/NINDS, including the ARCADIA trial of apixaban vs aspirin for atrial cardiopathy in cryptogenic stroke. Dr. Elkind also has a longstanding commitment to medical education and research training.
Dr. Elkind is only the second neurologist to serve as President of the AHA in its 100 year history. After completing his term, he joined the AHA in a new executive position, Chief Clinical Science Officer, with the vision of expanding the work of the organization from its traditional focus on cardiovascular disease and stroke to brain health more broadly defined. In this vision, Elkind develops and leads initiatives on basic and clinical brain science (including stroke, aging and dementia, migraine, traumatic brain injury, and mental health), nutrition and Food Is Medicine approaches to health, cardiometabolic and kidney health, digital health, and others.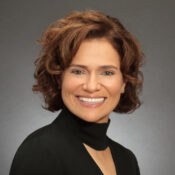 Leila Entezam, LMFT, MBA, Leadership Advisor to High Performers, EQ Thought Leader, Coach, Speaker: LEZAM.IT
Leila Entezam has a B.S. in Neuroscience, a M.B.A., and a M.A. with Distinction in Psychology.  As a business professional, Leila has an extensive background that includes managing complex projects, maintaining C-level duties, and being a consultant and executive leadership coach to high profile clients that include professional athletes, celebrities, and chief executives.  Her passion, and her purpose, is to empower those open to growth to live each moment to its fullest potential in all aspects of their life.  She teaches leaders how to identify their blind spots and what holds them back, and to maximize performance via a deeper understanding of self.  In addition, she has served as a mentor to several top ranked incubators and is currently a faculty member at Hult International Business School.  Leila is also a published writer, podcast co-host and frequent keynote speaker in the space of Emotional Intelligence, partnering with top ranked universities such as Harvard, Wharton, and UCI.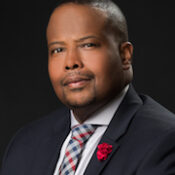 Tim Foxx, MPA, Director, Center for School Study Councils Graduate School of Education, The University of Pennsylvania
As the director of the Center for School Study Councils (CSSC), Tim Foxx works with school superintendents, school boards, and district staff to help them keep pace with state-of-the-art educational and management theory, research, and practice.
In that role, he leads regional and national professional learning communities of public-school superintendents and administrators from Pennsylvania, New Jersey, Delaware and California. Each learning community meets monthly, September through June and focuses on K-12 leadership challenges and opportunities. Twice yearly all the CSSC cohorts come together for a joint Study Councils meeting.  Tim has and continues to investigate additional strategies the council members and other system leaders can implement as they broaden their leadership in the midst of local and national uncertainty and polarization.
To that end, as director of the CSSC, Mr. Foxx also designs and leads technical assistance projects with affiliated districts. Those projects cover a broad range of topics from systemic transformation to community engagement to prioritization of wellness for all facets of K-12 ecosystems. Most of those technical assistance projects engage all affected stakeholders – students, staff, community members, etc. – in building stronger, more productive relationships between districts, schools and their communities.
In addition, Tim has worked with more than 100 educational, corporate, nonprofit, civic, philanthropic and post-secondary institutions on a range of organizational development and improvement projects, strategic planning, equity, progressive pedagogy and systems redesign.  His work has and continues to be focused on humanizing the most marginalized and being the voice for those who have historically been excluded from or muted in the public square.
Tim brings a commitment to relationship and partnership building with a focus on the five E's –Equity, Ethos, Ethics, Empathy and Efficacy.  Mr. Foxx is intentional about engaging and investing in generational transformation for the learner, the teacher and the leader.  The following quote from Helen Keller, a survivor of the holocaust, who was born blind, is foundational to Tim's approach to facilitating change– "The only thing worse than being blind is having sight but no vision."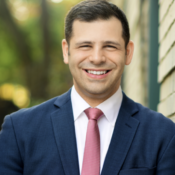 Michael J. Jabbour, DACM, MBA, Chief Innovation Officer, US Education, Microsoft
Dr. Michael J. Jabbour is an accomplished organizational transformation expert with over two decades of experience in the field of artificial intelligence, human-centered design, agile development, and healthcare. His unique blend of business acumen, technological expertise, and passion for people enables him to turn business challenges into growth opportunities for organizations.
Dr. Jabbour is recognized as a thought leader in the field of digital transformation, having led several highly complex operational mergers, digital transformations, and cloud transformations that have generated over $1B in innovation project funding and built programs that serve millions of users. As the Chief Innovation Officer for Microsoft Education and a former Chief Information and Technology Officer for various NYC agencies, Dr. Jabbour works cross-functionally to achieve organizational goals and helps people collaborate and work effectively with internal and external stakeholders to enable organizational growth.
Dr. Jabbour's passion for transforming traditional businesses into digital entities is rooted in his desire to make a positive impact on people's lives. His work has enabled businesses to serve their customers better and improve the quality of their products and services. In his previous role as Department of Education CTO during the pandemic, Dr. Jabbour impacted the lives of over one million children and their caregivers and teachers in New York City. Dr. Jabbour's role at Microsoft will build on the learning and inspiration he gained from his work in NYC. He is excited to work on innovations that will meaningfully improve the lives of the two billion children that Microsoft impacts worldwide.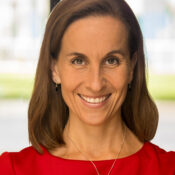 Laura Jana, MD, Pediatrician, Author, Chief Innovation Officer - Penn State's Evidence-to-Impact Collaborative
Dr Laura Jana is an Omaha-based pediatrician, social entrepreneur and award-winning author with a faculty appointment at Penn State University's Prevention Research Center.  She has a degree in Cellular Molecular Biology (University of Michigan) and a medical degree (Case Western Reserve University). Early in her career, Dr Jana collaborated with Dr Benjamin Spock and co-founded one of the first online health/parenting websites. In addition to pediatric practice, she founded her own consulting company, was 10-year owner/operator of a private educational childcare center, received a 40 Under 40 Business Award, and became internationally recognized as a trusted consultant for parents, news media, academic and government organizations, non-profits and corporations alike. Dr Jana is currently a spokesperson for the American Academy of Pediatrics, head of Mattel's medical advisory council, consultant to a $1B US-based system of educational childcare centers, advisor to multiple health-tech startups/companies, and member of Ready Nation/Council for a Strong America's Brain Science Speakers Bureau.  Dr. Jana's work has been featured in places ranging from the World Bank, the World Forum on Early Childhood, the US Chamber of Commerce, global business leader summits and the British Parliament to US News and World Report, The Today Show, CNN, NPR, Good Morning America, Fox, Time, People, WebMD, Parents magazine, The New York Times and USA Today.  As author of 31 books, her latest, The Toddler Brain: Nurture the Skills Today That Will Shape Your Child's Tomorrow, focuses on the strategic and neuroscience-informed cultivation of 21st Century skills, the focus of her latest startup and more than 120 talks/keynotes (including 3 TED talks) addressing a wide range of cross-sector audiences.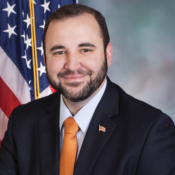 Aaron Kaufer, State Representative, Commonwealth of Pennsylvania
State Representative Aaron Kaufer serves residents of Luzerne County in Pennsylvania's House of Representatives. Now in his fifth term, one of his top legislative priorities has been increasing access to mental health services for all Pennsylvanians.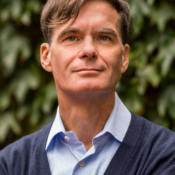 Jason Karlawish, MD; Professor of Medicine, Medical Ethics & Health Policy & Neurology, Perelman School of Medicine, The University of Pennsylvania
Jason Karlawish is a professor of medicine, medical ethics and health policy, and neurology at the University of Pennsylvania Perelman School of Medicine. He was educated at Northwestern University, the Johns Hopkins Medical Institutions and the University of Chicago. He is co-associate director of the Alzheimer's Disease Research Center and co-director of the Penn Memory Center, where he cares for patients and their families. These Centers are internationally recognized leaders in the discovery of biomarker diagnostics and their translation and interpretation into policy, practice and society.
Dr. Karlawish directs the Penn Program on Precision Medicine for the Brain (P3MB). The Program examines the bioethics of aging with a focus on diseases of the brain such as Alzheimer's disease and Lewy body disease. The program assembles scholars in anthropology, law, nursing, philosophy, psychology, and public policy to investigate how neurodegenerative diseases impact a person's capacity to self-determine their life and to discover conceptual and practical interventions to enhance self-determination.
Notable studies have addressed the interrelated challenges created by impairments in decisional capacity and the sometimes hidden-in-plain site social and policy barriers to exercising decision-making. This work includes development and testing "mobile polling" in residential long term care settings to foster the right to vote and development of the Assessment of Capacity for Everyday Decision making, or ACED, tool to assist in assessing decision-making skills. Responding to transformations of the definition and staging of Alzheimer's disease, P3MB has developed biomarker disclosure practices and discovered insights into how learning a biomarker result impacts both patients and their loved ones. Work recasting dementia as a progressive disorder of consciousness has opened up a host of innovations in how we can live with and care for people with these diseases. These include refining the legal concept of supported decision making to apply to the care of persons living with neurodegenerative diseases.
A writer, Dr. Karlawish is committed to translating science into society. He's the author of The Problem of Alzheimer's: How Science, Culture and Politics Turned a Rare Disease Into a Crisis and What We Can Do About It and the novel Open Wound: The Tragic Obsession of Dr. William Beaumont. His essays on ethics and aging have appeared in publications such as The Hill, The New York Times, Philadelphia Inquirer, StatNews and The Washington Post.
To learn more about his research and writing, visit www.jasonkarlawish.com.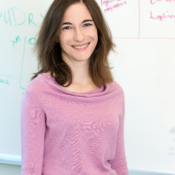 Gale M. Lucas, PhD, Assistant Research Professor, Institute for Creative Technologies, University of Southern California
Gale Lucas has been a researcher at University of Southern California's Institute for Creative Technologies (ICT) for 10 years. Before that, she obtained her PhD in Psychology from Northwestern University. She went on to complete a post-doc in Affective Computing with Dr. Jon Gratch at ICT. She now works as research faculty in the areas of human-computer interaction, human-building interaction, affective computing, and trust-in-automation.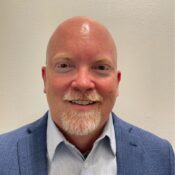 Bob McCullough, PhD, VP, Clinical Strategy, Kooth Digital Health
Bob McCullough, PhD, is the vice president of Clinical Strategy for Kooth Digital Health. An associate professor of psychology at Missouri Baptist University and a licensed clinical social worker, Bob has extensive leadership experience in healthcare organizations including Cigna and Magellan Health, and behavioral health strategy experience at SilverCloud and ComPsych. He holds a master's degree in social work from Washington University in St. Louis and a doctorate of philosophy from Newburgh Theological Seminary.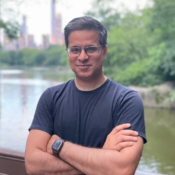 Danish Munir (W'09), Founding Partner, GreyMatter Capital
Danish Munir is a healthcare entrepreneur and investor. Danish is Founding Partner at GreyMatter Capital, a VC firm dedicated to advancing innovation in mental, behavioral and brain health. Danish previously founded, and still serves on Investment Committee for Watershed Ventures, a VC firm that harnesses the power of entrepreneurs from non-traditional backgrounds to cause transformative change in industries that matter, including healthcare.
Previously, Danish founded Genoa Telepsychiatry (formerly 1DocWay), one of the first telepsychiatry companies in the country to scale. Genoa was acquired by Optum in 2018, and at the time was the largest telepsychiatry company in the country serving 250K patient visits per year, in 35 states. Danish has also worked at Microsoft and Lehman Brothers in the past. He studied Computer Engineering and Finance at UPenn and Wharton respectively.
Danish grew up in Karachi, and considers both Karachi and New York home. His interests include cutting edge developments in mental health and therapeutics, ultimate frisbee and live music.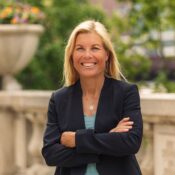 Kelly O'Brien, Vice President of Prevention, UsAgainstAlzheimer's
Kelly O'Brien is Vice President of Prevention for UsAgainstAlzheimer's. In this role, she is the strategic lead and director of the team working to support businesses, healthcare professionals and policymakers with information, resources and ideas to promote healthy aging an ensure brain-span equals lifespan.
Before joining UsAgainstAlzheimer's, Kelly was a founding Executive Director of The Kennedy Forum Illinois, a mental health initiative led nationally by former Congressman Patrick Kennedy. Her service history includes leadership positions in the public, nonprofit and private sector, including CEO of the social impact consultancy Ideaction Corps, public health advisor to Senator Richard Durbin, Senior Legislative Aide to Congressman Jerry Kleczka, Director of Government Affairs for Partnership for Prevention, Associate Executive Director for the American Public Health Association, Congressional Liaison for the Director of the Centers for Disease Control and Prevention, Vice President at Wilhelm & Conlon Public Strategies, Executive Director of Girls on the Run Chicago, VP of Corporate Partnerships and Marketing at United Way of Metro Chicago.
Kelly holds a master's degree in Public Administration from the George Washington School of Business. She is a Certified Health and Wellbeing Coach (Wellcoaches), a NASM Certified Personal Trainer, and a certified meditation instructor. Kelly is an avid endurance athlete, and has competed in more than 100 running, swimming and triathlon events around the world.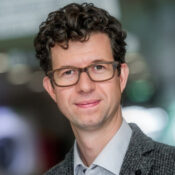 Stefano Puntoni, PhD, Sebastian S. Kresge Professor of Marketing, The Wharton School, The University of Pennsylvania
Stefano Puntoni is the Sebastian S. Kresge Professor of Marketing at The Wharton School. Prior to joining Penn, Stefano was a professor of marketing and head of department at the Rotterdam School of Management, Erasmus University, in the Netherlands. He holds a PhD in marketing from London Business School and a degree in Statistics and Economics from the University of Padova, in his native Italy.
His research has appeared in several leading journals, including Journal of Consumer Research, Journal of Marketing Research, Journal of Marketing, Nature Human Behavior, and Management Science. He also writes regularly for managerial outlets such as Harvard Business Review and MIT Sloan Management Review. Most of his ongoing research investigates how new technology is changing consumption and society.
He is a former MSI Young Scholar and MSI Scholar, and the winner of several grants and awards. He is currently an Associate Editor at the Journal of Consumer Research and at the Journal of Marketing. Stefano teaches in the areas of marketing strategy, new technologies, brand management, and decision making.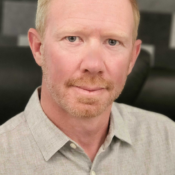 Scott Sandland, CEO, Cyrano
Scott is the former world's youngest hypnotherapist and an international speaker on the topics of ethical AI and subconscious motivation.  He is a multi-patented inventor in Artificial Intelligence and the CEO of a company focusing on strategic empathy and linguistic analysis. As a former executive director and CEO of a mental health clinic and longtime technologist, he has experience leading purpose driven organizations. He has been published in numerous peer-reviewed journals and has had his work at Cyrano mentioned in the Harvard Business Review, Psychology Today, Forbes, and Entrepreneur Magazine.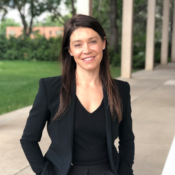 Lindsay Shaw, EdM, EdD (Penn C'05); Director of Sport Psychology at the Cleveland Guardians
Lindsay Shaw is the Director of Sport Psychology for the Cleveland Guardians Baseball Team. She previously served as a consultant to the organization. Lindsay leads a team of professionals who are responsible for mental performance and mental health offerings within the organization.  
Prior to joining the Guardians, Lindsay spent nearly a decade with the United States Olympic Committee at their Colorado Springs and Chula Vista Training Centers. Lindsay was the first Psychophysiologist on staff at the USOC and developed an applied training laboratory in Colorado Springs. She blended her training in sport psychology with psychophysiology to provide performance and recovery services to summer and winter National Team athletes. She has also served as adjunct faculty at the University of Denver.  
A native of Rhode Island, Lindsay graduated with honors from the University of Pennsylvania with a Bachelor of Arts in Philosophy, Politics and Economics. She competed on the women's gymnastics team for two seasons. She also received her Masters and Doctoral degrees in Counseling Psychology with a specialization in Sport Performance from Boston University. She is a licensed psychologist and has specialized credentials in applied sport psychology, and psychophysiology. Lindsay and her family live in Denver.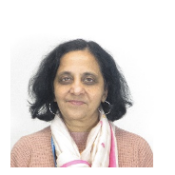 Chemba Raghavan, PhD; Senior Advisor, Early Childhood Development, Nutrition & Child Development, Programme Group, UNICEF
Dr. Chemba Raghavan currently works as the Senior Advisor/Deputy to the Chief with the Early Childhood Development (ECD) team in UNICEF Headquarters in New York.   Prior to joining UNICEF HQ, Chemba worked in the UNICEF East Asia and Pacific Regional Office (EAPRO) as the Regional Focal Point of the United Nations Girls' Education Initiative (UNGEI) and as ECD/Education Specialist.  Chemba has also served as a Technical Expert for UNESCO in Bangkok, and Research Advisor in the Asia Pacific Regional Network for Early Childhood (ARNEC). She has several years of experience as Senior Researcher/Assistant Professor in academia in the U.S.  Her areas of expertise include child development, parenting, cross-cultural lifespan human development and family studies, gender socialization, family friendly policies, research methods and statistics. She has a Ph.D. in Human Development and Family studies from the Pennsylvania State University.
Cornelia Walther, PhD; Senior Research Fellow, Center for Social Norms & Behavior Dynamics, School or Arts and Sciences, The University of Pennsylvania
Following two decades with the UN in humanitarian crises Cornelia C. Walther holds a PhD in Law. Building on research and  cross-cultural practices she developed over the past decade POZE  (Perspective – Optimization- Zeniths – Exposure) a multidisciplinary paradigm for social change via individual transformation. Prototyped in Haiti it looks at human existence as a composition of 2 x 4 dimensions – with aspirations, emotions, thoughts and sensations at the individual level, and individuals, communities, countries and the planet/nature at the collective level. In 2017 she launched the Global POZE network which as since grown in a worldwide alliance of likeminded thinkers and doers involved in the interplay of quality of life and harmonized social interactions. In 2021 POZE@global was established, combining research and practice tools for leaders and change-makers. Since 2022 she focusses on the potential of aspirational algorithms (AA) and AI4AI (artificial intelligence for inspired action).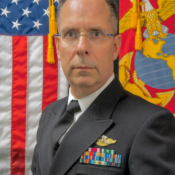 Jay A. Yelon, DO, FACS, FCCM; Commander, Medical Corps, US Navy
CDR Yelon grew up in Brooklyn, New York, and attended the New York Institute of Technology in a combined BS/DO program with the New York College of Osteopathic Medicine (BS, 1986; DO, 1990).  He completed a rotating internship at Coney Island Hospital, followed by a Surgical Residency at Nassau County Medical Center, a Burn Surgery fellowship at Nassau County Medical Center, and a Surgical Critical Care Fellowship at the University of Rochester Medical Center.  As an academic surgeon, he has devoted his career to managing critically ill and injured patients.  He was commissioned as a Lieutenant Commander in the Naval Reserves in 2016.
After a brief assignment with the Operational Health Support Unit Portsmouth, CDR Yelon was assigned to the 4th Marine Division.  Initially as the Assistant Battalion Surgeon for the 2nd Battalion, 25th Marines, then as the Battalion Surgeon for the 1st Battalion, 24th Marines.  While with 1/24, he continued to provide medical oversight for 2/25.
In 2018 CDR Yelon was tasked as the Officer-in-Charge of the medical processing for the Unit Deployment Program 19.1.  This evolution required the coordination of ten medical officers and supporting enlisted personnel to mobilize an entire Marine Corps Battalion to the Pacific Command Area of Operation from Marine Corps Air Ground Combat Center Twentynine Palms.
In 2019 CDR Yelon deployed as the Officer-in-Charge of the Expeditionary Resuscitative Surgical System, team 22.  The team was part of a Joint Task Force in the Central Command Area of Operation. The team conducted operations in six different countries and on two afloat platforms.  Missions included joint forces operations with the Navy, Marine Corps, and Special Operations, including a mission in support of Operation Inherent Resolve.
CDR Yelon transitioned from the Reserve Component to Active Duty in 2021 and was assigned as the Trauma Surgeon to the Naval Strategic Health Alliance for Readiness and Performance at the University of Pennsylvania.  He is involved with the Navy's Trauma Advisory Board as the Trauma Partnerships Advisory Committee chair.
Since completing post-graduate training, CDR Yelon has maintained an academic surgical career with highlights focusing on clinical care, medical student and resident education, research, and administrative positions, including as a chair of surgery at a large municipal hospital for four years.  CDR Yelon serves as a site surveyor for the American College of Surgeons Verification Review Committee and has previously served on the National Committee on Trauma.
CDR Yelon is board-certified in Surgery and is certified with added qualifications in Surgical Critical Care.  He has edited two surgical textbooks and has over 50 professional publications.  He has held positions in numerous national and regional professional organizations.  He holds an academic appointment as a Professor of Surgery at the Uniformed Services University of the Health Sciences and an Adjunct Surgery at the University of Pennsylvania.  His military decorations include a Meritorious Service Medal and two Navy Marine Corps Commendation Medals, and he is a Qualified Fleet Marine Force Warfare Officer.